Live at Jack's | Denver
by
Live at Jack's is one of downtown Denver's premiere live music venues with bands virtually every night of the week. They have an excellent sound system, and, just as importantly, an amazing sound engineer to run the board. You can find a broad variety of quality entertainment from R&B to Funk, Jazz, and Blues. This is one of my favorite dance clubs because of the huge dance floor – and yes, they do have great cocktails and food.
Come hang out with CC and the Riders on June 3 and watch for other times we'll be playing at this awesome live music venue in Denver!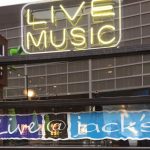 Click here for more information about Live at Jack's.