Ophelia's Electric Soapbox | Denver
by
On May 9, Cass Clayton Band will be playing at Ophelia's Electric Soapbox for a corporate event. While we're sorry this one isn't open to the public, we plan to blow their socks off and do another show there in the near future.
Ophelia's has won awards for top new restaurant, top ten restaurants, top 100 restaurants in the country, best live music venue, and the list goes on and on. The historic building, which was once a brothel, was painstakingly transformed by owner, Justin Cucci, into a boudoir-style nightclub with one-of-a-kind design elements. A lot of the features are recycled (e.g., a wall of old radios, over a thousand yardsticks, and old pinball machine art). We're thrilled to play at this iconic music venue that is keeping original music alive in Colorado.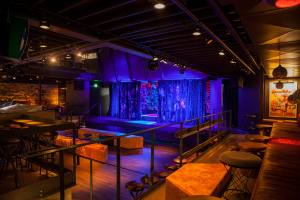 Click here for more information about Ophelia's.