Electronic Press Kit
Cass Clayton Band Bio:
Cass Clayton is known for her smoky 3-octave vocal range and big, bluesy voice, as well as her slide guitar playing. She was recently voted as one of the top three vocalists and top three slide guitar players in Colorado (Colorado Blues Society, Members' Choice Awards 2017). She's been breaking out into crossover music with blues, funk, soul and rock as her vocabulary on an upcoming CD, to be released in May of 2018.
Cass Clayton Band featuring Taylor Scott, is the culmination of a songwriting and composing collaboration that led Cass and Taylor into the studio to record their own originals in 2017 and into the present. Their complementary music tastes began to evolve into music they both loved that didn't fit in any particular box. Their combined influences of blues, funk, jazz, gospel and rock came together in an undefinable way.                                   
Cass Clayton Band Members:
Taylor Scott, Lead Guitar  ~  Cass Clayton, Vocals and Slide Guitar  ~  Loren Phillips, Bass Guitar and Vocals  ~  Drums and Keyboards (rotating musicians)
---
CC and the Riders Band Bio:
CC and the Riders (formerly Hogback Blues Band) is a five-piece band with high energy, tight chemistry and a house-rockin' style that has amassed a loyal following of music lovers and dancers across the state. The band's blues/rock, soul, and gospel infused chops make for a sound that is all their own. Cass Clayton has a smoky-smooth, three octave vocal range and plays slide guitar. Dann Burke's soulful, clean guitar licks favor dynamics and space over exhibitionism. Mix in Sugar Rich Liner's old-school blues harp and keyboards, and top it off with a rhythm section that features Jodie Woodward ("Best Bass Player" People's Choice Awards for 5 years running), and Mike Ray (who holds down a groove like nobody's business).  They can be found playing in venues across the front range of Colorado and beyond.
CC and the Riders Members:
Dann Burke, Lead Guitar   ~   Cass Clayton, Vocals & Slide Guitar   ~   Sugar Rich Liner, Harmonica & Keys   ~ Mike Ray, Drums   ~   Jodie Woodward, Bass
---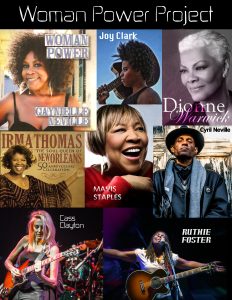 An Exciting New Project
Cass is one of the musicians on a project called "Woman Power" with some iconic musicians, including Gaynielle Neville, Dionne Warwick, Mavis Staples, Irma Thomas, Cyril Neville, Ruthie Foster and Joy Clark. "Woman Power" was conceived by Gaynielle and Cyril Neville as a way to help empower underprivileged women and support them in breaking out of the cycles of poverty and abuse. In this project led by producer, Joe Michaels, a team of highly experienced music industry professionals and performing artists will record "Woman Power," a song written by Gaynielle, as a benefit to women in crisis. Sponsors are currently being sought to support this effort, so please reach out if you can help!
Opening For – Recently opened for The Fabulous Thunderbirds (as Cass Clayton Trio), Tab Benoit (CC and the Riders), and Tommy Castro and the Painkillers (7th Heaven). See upcoming Shows.
New Music – Cass just released two new songs, available in the store on this website, on Itunes, Spotify and many other music outlets.
Rocky Mountain Music Relief – Cass and a few friends in music recently launched an organization to raise money for hurricane relief. A series of benefit concerts happened at the end of 2017, including a show at the Fox Theatre with Cyril and Gaynielle Neville! Cass is now on the board of directors of the relief organization, which will serve the Colorado musician community in the event of unforeseen hardships. For upcoming concerts and information, please visit our website at www.rockymountainmusicrelief.org.
---
Genre:
Rock, Soul, Blues, R&B
Sounds Like:
Susan Tedeschi, Bonnie Raitt, Marcia Ball
Music:
The media and festival/venue managers may copy MP3's of our music through this Dropbox link. To listen without downloading, please visit the Music page of this site.
---
Video:
For more videos click here.