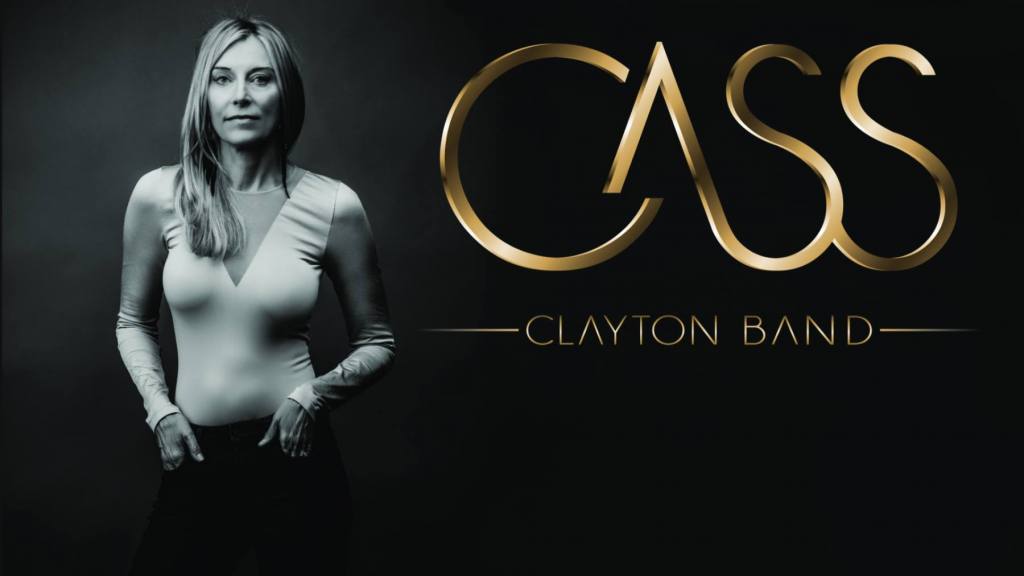 Band Bio:
Cass Clayton Band blends influences of rock, funk, soul, gospel and R&B in a new way with plenty of inventive sounds and unexpected twists. Cass, along with co-writer/producer, Taylor Scott, have been praised for their unique approach to contemporary American rock and roots music. With a voice loaded with smoky soulfulness, it's easy to see why Cass Clayton Band is landing on some of the best stages and festivals. The band has become known for its tight chemistry and high-energy stage presence.
Cass Clayton Band has won six songwriting awards, garnering top reviews from magazines nationally and internationally. Their recent PLAY NICE album ranked #1 in the national R&B Radio Chart for 11 weeks as well as #1 R&B Album in Colorado (Roots Music Report). Cass has been featured on the cover of RECORDING Magazine  along with recent articles in Guitar Girl Magazine and AMERICAN SONGWRITER. CCB will be releasing a new album in Spring of 2023.
---
Recent Press:
AMERICAN SONGWRITER – "It's Clayton's velvety vocals atop the instrumentation that makes this song so special. The mellow guitar helps sweep listeners up while Clayton's lyricism paints a vivid picture of a distant past…" Full article here
ONSTAGE MAGAZINE –"Cass Clayton is a Colorado based singer-songwriter whose singing oozes of smoke and honey while her slide guitar playing is simply badass." Full article here.
RECORDING MAGAZINE -"I fell in love with the album after just one listen. First time listeners are always amazed to hear Cass sing – a petite lady with a smoky-sweet voice that sounds like it should be coming from someone twice her size." Full article here.
BLUES BLAST MAGAZINE -"Cass Clayton is a product of the Colorado music scene and combines rock, soul, blues, funk and R&B into a smooth and cohesive package. Each song tells a story and Clayton and company are up to the task… Taylor Scott is a fine guitar player whose skills are evident in each track." Full article here.
NOHO ARTS DISTRICT -"It feels like a live album. The songs are arranged in such an open organic way, the stories unfolding from one song to the next in a gorgeously cinematic and artfully thoughtful journey. Seriously…it's a soundtrack. Someone should write a movie to this album…what an epic love lorn trek through a sublime and stupendous artists mind….love, love, love it!" Full article here.
OBSCURE SOUND -"Among my favorites is the second track, 'Little Things.' A rousing vocal presence and playful organ backing is steadily accompanied by brass, with the track rising in blues-driven suaveness as it progresses. The 'you got a million followers / what is that really worth?' interlude approaching the three-minute mark, sported by a lush organ backing, provides some entrancing variety." – Full article here.
SLEEPING BAG STUDIOS -"Cass is beyond fantastic; endearing & powerful in equal doses – and with a comfort, confidence, and cool that an artist like Bonnie Raitt would bring to her music – REAL R&B – you absolutely can't take your ears off her performance on 'Little Things'.
Every time I felt like this album couldn't potentially get any more enjoyable, Cass Clayton Band would create something like this that absolutely stole the show all over again – this lady's voice is second to NONE when she lets the power take hold." Full article here.
BIG SKY STATE BUZZ –"On their new album 'Play Nice,' the first thing you'll likely notice about the Cass Clayton Band is Clayton's distinct and powerful voice. Whether it's god-given talent, hard-work, or a mixture of both, Clayton shines on the whole album." Full article here.
---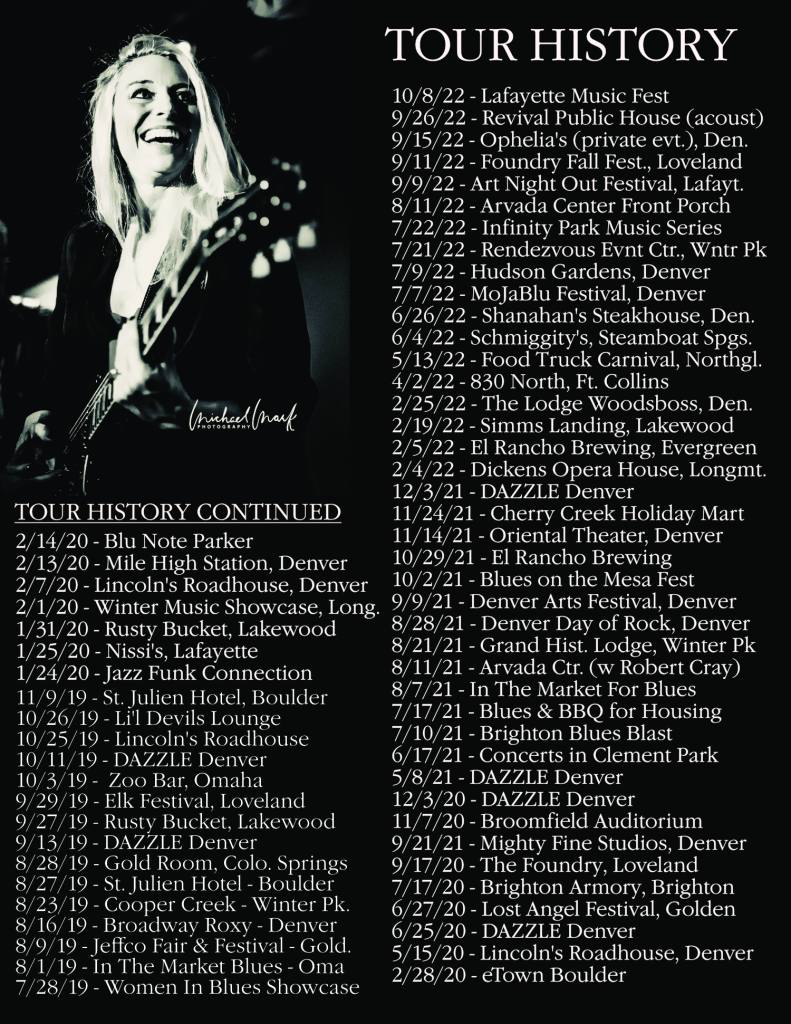 ---
Album One-Sheet: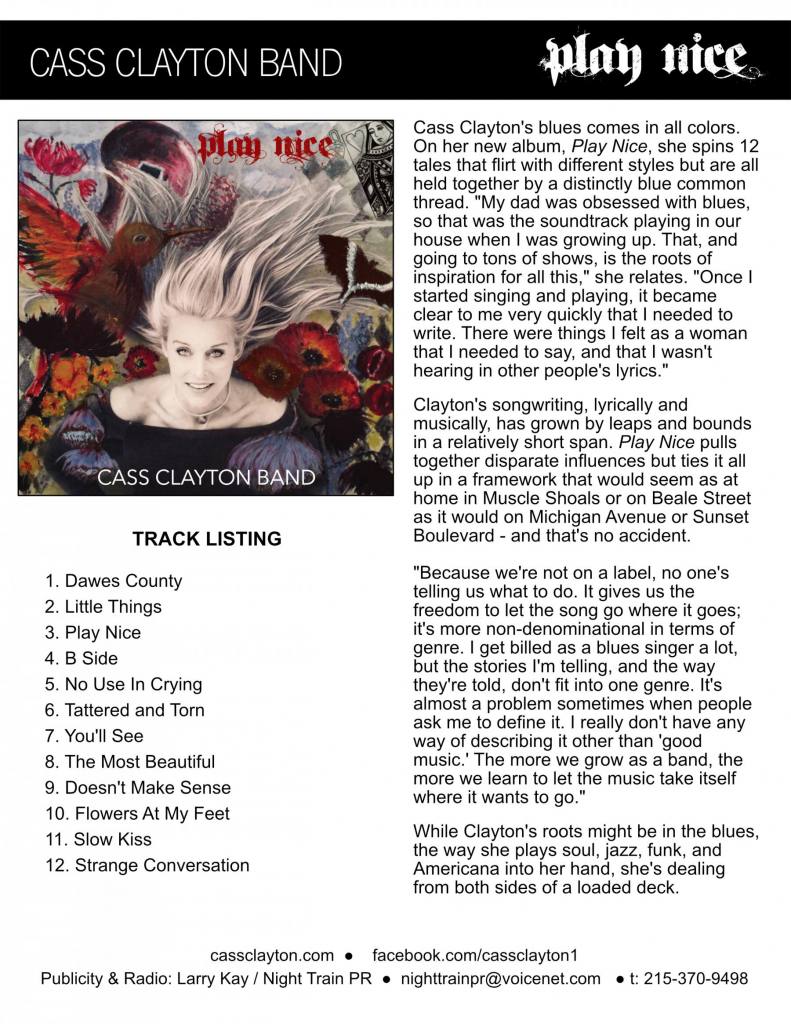 PLAY NICE #1 on National R&B Top 50 Album Chart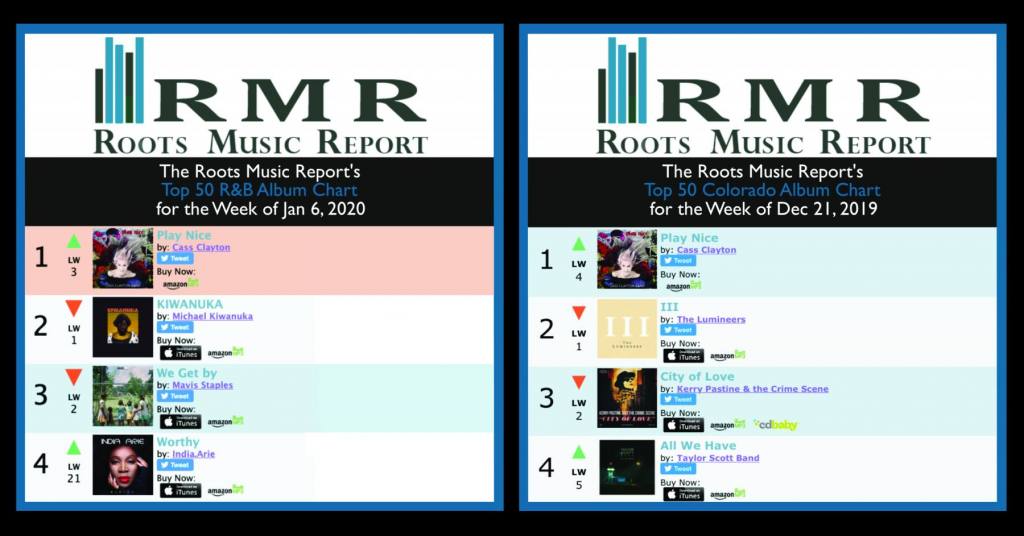 Previous 2018 Award-Winning Album:
The 2018, self-titled CASS CLAYTON BAND album won four songwriting awards, along with 2018 Album of the Year (CO Blues Society Members' Choice).
---
Genre: Contemporary American Roots (Soul, Funk, Rock, R&B, Blues)
Radio, media and festival/venue managers may click heading above for full album – MP3's or WAV files on Dropbox.
---
Full press kit (photos, music, stage plots, etc., available HERE.
---
Videos:
Scroll down for videos.
---
Promo Pics & Logo:
Photos also available in Dropbox.